Dear Traveler,


each of us at least once in the life was a Traveler.
And practically our address refers to all the inhabitants of our Planet, which we love and travel here and there whenever we can afford thus receiving unforgettable impressions from each country visited.
We are quite confident that the beautiful land of Belarus, the country situated in the center of Europe will also give you unforgettable impressions and will forever remain in your memory.
We can only feel sorry that the majority of travelers entering or leaving Belarus rushing along highways and only making stops to relax and take a snack unaware of the beauty and of rich spiritual and material heritage of Belarus they leave behind.
In reality Belarus has everything to satisfy the most demanding request of any traveler and the notion of Belarus as a transit area you can not avoid crossing on the way to or from Russia is fantastically wrong.
Belarus today – is the country of century-old culture having hundreds of architectural monuments dating back to the 12th century; National parks and reserves, splendid places for recreation and leisure, areas covered with legends. This is the land, which gave birth to the thousands of celebrities in all aspects of human activity and this is the land of very hospitable people...
Finally and definitely – Belarus – is the country of unlimited tourist opportunities that we will try to reveal for you according to your request.

Belarus. That means "White Russia", a tender and poetic name that befits this country in the best way. White means clean, clear and innocent in our days as well as main and western in 12-18th centuries. Bright colors of the Mediterranean region are not characteristic for Belarus. It does not have the stunning exoticism of Africa or delicate slyness of the East either. Belarus is the country of modest and, one may even say, intelligent beauty. Its quiet charm penetrates into a traveler's soul gradually, through a soft play of the morning sky over the vague horizon line, through the velvet verdure of the vast expanses of the fields, through the overpowering balmy air of a century-old pine-forest, through the tender mooing of cows and sad cries of cranes. The slipping-away beauty of Belarus does not expose itself to everyone; for this you have to stop and feel the surrounding world: keep looking into the blue eyes of Belarus, its deep lakes until you feel dizzy, put down your hands into icy waters of a ringing brook, hide from a warm rain under a shaggy branch of a spruce... Perhaps, this is one of the few remaining places on our planet where one can see the amazing miracle – the miracle of the untouched nature. It is surprising that right here, in the very center of Europe time seems to have considerably slowed done its run – the 21st century is raging around, the civilization is progressing with long strides, yet in Belarus nature remains real, people remain human and values remain eternal. Belarus is an island of calmness in the swirl of seething time, a place of wise harmony of the body and soul.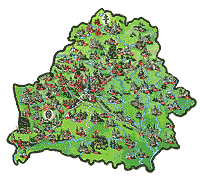 Belarus is the country of lowlands, small hills, forests, and blue lakes. The nature of this country is soft, harmonic, and moderate. We have neither severe frosts nor exhaustive heat.
One third of the Belarusian territory is covered with forests where birches, oaks, maple and pine trees dominate. The fauna of this country is rich and diverse: here one can find European bison, elk and deer, wild boar and wolf, bear and fox, beaver and lynx – not to mention myriad birds.
Belarus is the country of a unique history and a rich cultural heritage, which is carefully protected.
Belarus – from the tourist point of view – is an interesting region providing good recreation and unforgettable impression for groups and for individual travelers.
BELARUS is the Country which One Could Not Help Falling in Love with!